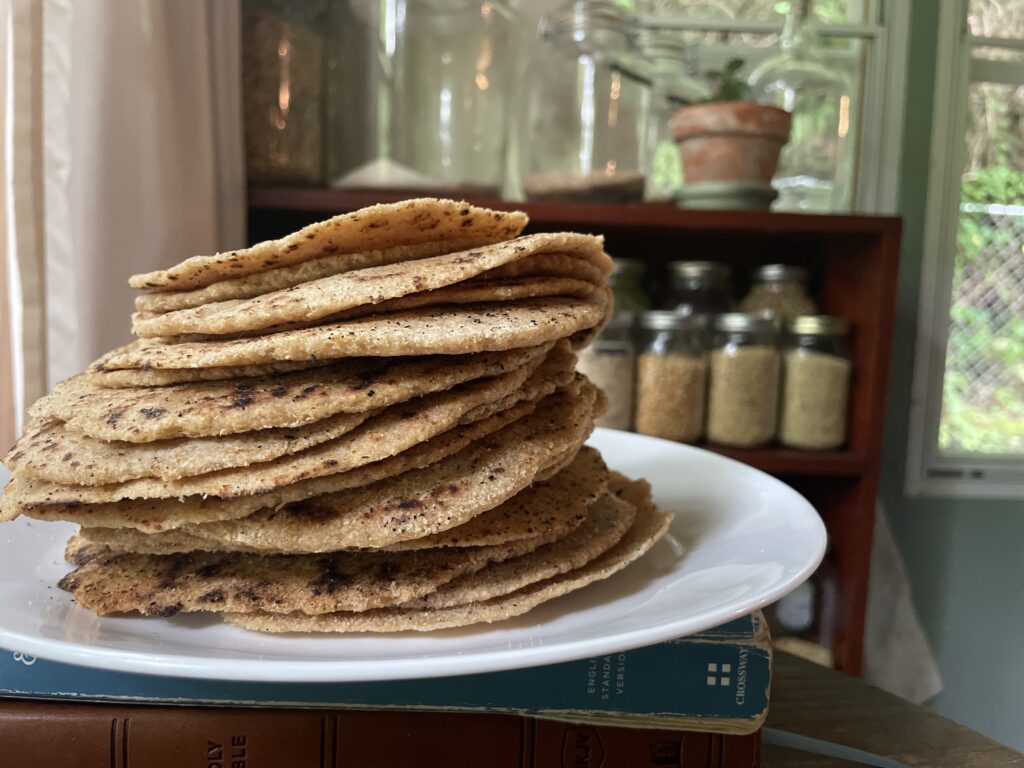 Before making tortillas with fresh milled flour I would follow this recipe from Milk and Pop's blog: https://milkandpop.com/the-best-sourdough-tortillas/
So this was the foundation for me creating this recipe, and I have made a lot of adjustments on amounts of ingredients used to make the tortillas with fresh milled flour, because it does make a difference! Very seldom can you take a recipe using store bought flour and use it for fresh milled flour! But I have finally found the amounts that make for a really delicious tortilla! I hope you enjoy!


Recipe makes 24ish tortillas depending on the size you make.

Ingredients:
340g sourdough (could also use your discard)
100 g olive oil
260 grams of warm water (around 90ish F)
2 tsp salt
540g white wheat berries* (ground as fine as you can, I didn't sift this)

Combine all ingredients and gently knead and fold with your hands for 1-2 minutes.

Cover the dough with a damp cloth and let it sit. If you would like the benefits of sourdough, you can wait this out like you would a loaf of bread, I usually let my bowl sit 6-8 hours before I use it. But if in a hurry, and not concerned about the ferment, really all you need is to let it sit for 30 minutes.

Preheat a cast iron skillet (or two to make faster work) on medium high heat. You may have to adjust temp. as you go.

Flour your surface (I use fresh milled soft wheat flour for this, because it grinds more powdery and is closest texture to an all-purpose flour.)

For making tortillas, my favorite method is to roll the dough gently in a ball, place it on your floured counter and press a plate with a smooth bottom onto the dough ball. This makes for a really nice even circle. From here I use my mini rolling pin to roll it just a bit thinner. In the past, I've only used a big rolling pin, and this works fine, I just could never get perfect circles this way.

Place rolled out dough on the skillet and let it sit for 30 seconds – 1 minute. This time will depend on your heat. I gauge it by, once it starts getting tan spots on it, I'll go ahead and flip it. If you leave it on the burner too long, they will get hard and will be impossible to fold or roll without cracking for breaking.

Once done, place tortilla in a bowl with a damp cloth inside, and covered with a damp cloth. This creates steam that will keep your tortillas soft while you're cooking the others. In the past I have taken the tortillas directly off the heat onto a plate and they tend to get hard. So this tip solves that!

God bless and enjoy!

*always use a hard wheat berry when making tortillas. Soft wheat berries will not make a strong enough dough for you to be able to roll our and transfer them to the cast iron… I have learned this from experience.