The best time to plant a tree was 20 years ago, the second best time is now. Same goes with starting your bulk food pantry!

When we first got married, the amount of food that I would have in the house would last us a week or so. And grocery shopping would happen a few days a week (I worked at Trader Joes, it was hard to resist shopping every day.) I remember one winter thinking, if a snow storm comes, we do not have more than a weeks worth of food if we get stuck in our house…
I kind of stumbled into bulk food buying by circumstance. In 2018, our Whole Foods moved locations and everything at the original store went on discount. The family in front of us had two full carts of everything you could imagine. I specifically remember seeing diapers. Their bill came to $2,000. Our jaws dropped. That was more money than we had. We walked up to the register after them with a few shampoo bottles and supplements and as we walked out to the car, we talked about that couple and how wise they were. If they were going to eventually need to buy those items anyways, we might as well get them when they are 50% off… when does anything go 50% off these days.

It just so happened, 2 weeks later Lucky's (a store like Whole Foods) was closing. This was our chance! We bought up pretty much all the bulk food items they had. Filling up those flimsy bags with rice, chia seed, flax, oats, etc. We were pumped! Although I gulped when my bill came to $300. I had to remind myself how long this would last us. Then again a few weeks later, Fresh Thyme (another health foods store) was closing. This time I stocked up on shampoos and conditioners, makeup and other toiletry items.

We had just moved into a new rental house and I had all this food in plastic bags in our pantry closet. My first thought was, if this place has mice issues, there goes all the food we just bought! I needed glass containers. I waited until Hobby Lobby had glass products 50% off and bought several big chunky glass jars. Viola, the mere beginnings of our bulk food pantry.

Come 2020, the bulk food pantry expanded. Again, this semi started by accident. Because of the state of the world, we knew food storage was a value. We also were starting from scratch in a new state, new home, and wanting to start something new. We had the idea of starting a bulk food store… we were hoping to buy a building in this cute little town near us through an auction. As an act of faith, I started researching who would supply our food for a bulk food store and that is how I stumbled across Azure Standard.

We ended up losing the building in the auction, with it just selling beyond our stopping point, which at the time devastated me (but now I see it was God closing that door for us.) What I did get from that experience was the discovery of Azure. That month we placed our first order for $900. Ideally when buying 400lbs worth of dry goods, one would already have an idea for storing these items. Not us. We picked up our stuff from our Azure Drop an hour from us. And on our drive home, we were like, this is a lot of food we don't have containers for!

So now that you know our journey of stumbling into bulk food buying, I'll get into the details of what I've learned, where I source my items for the bulk food pantry!

STORAGE
Buckets
This would be the first thing I would keep in mind. How do you want to store your food. If you have a basement pantry or a closet, 1 gallon to 5 gallon buckets may work great for you. That day on our way home from our Azure drop, we swung by our local IGA, went back to the deli section and asked them if they had any buckets they were willing to part with. We left with two 5 gallon buckets with lids and at least twelve 1 gallon buckets with lids, all food grade. They just needed to be washed. Best of all they were free!

Now we did go back again a year or so later and they were no longer giving out buckets, but still they only cost $1-$2 a bucket depending on the size.

Another option is getting buckets from Azure. We have done this as well. I love their buckets. And the price is reasonable if you get them in bulk.
Gamma Lids
We also get the gamma seal lids from Azure. They do seem pricey, but buy them once and they will last you forever, so they are well worth the investment. These lids make opening and closing your buckets easy and convenient, keeping your food fresh and bugs out!

Mylar Bags
If part of your bulk food pantry is for long term storage, Mylar bags are a great option! I get mine from Azure. You don't need a fancy tool to seal your bags, I use my hair straightener. If you are planning on buying bulk food for long term storage, it is commonly recommended to first put your food in mylar bags with oxygen absorbers and then into 5 gallon buckets. (This post isn't so much about long term storage, but about a 3-6 month lifestyle pantry, there are many prepper blogs out there that go into vast detail about long term storage arrangements!)

Oxygen Absorbers
One of the things you have to consider with buying grains in bulk is bugs and their eggs. I have gotten a 50 lb bag of hard red wheat from Azure that had weevils. To kill them, I put the whole bag in the freezer, and as I needed wheat I just opened the bag in the freezer, scooped out the grains I needed, sorted them for dead bugs and other debris before grinding. The freezing did kill all the bugs. The problem is 50 lbs of wheat takes up a lot of space in the freezer. Thankfully this was a time when we were running low on our meat stock, so it worked out fine!

There are lots of commentary out there on the best way to kill bugs in grains. Some say putting them in the freezer for at least 2 weeks is the best option. When I've done this, it has worked, but then it's a process of making sure you get all the moisture out of the grains before storing them in buckets or glass. I end up spreading the grains on cookie sheets, 9 x 13 baking dishes, bowls, you name it, and covering them with linen breathable towels for a few days before transferring them to their storage container to make sure the moisture is out of them. This has worked for me.

However… there are some people who are totally against the idea of using the freezer method at all because of the moisture issue and it is believed that freezing kills the bugs but not the eggs. So these folks recommend using oxygen absorbers. Which, I have to agree is the simpler method! You aren't taking up valuable freezer space. You don't have to take the time to spread your grains to get the moisture out. And oxygen absorbers are fairly inexpensive. I get mine from Azure.

Using the oxygen absorber method for killing bugs and eggs, make sure you have the appropriate absorber size for your storage container. Fill your container with your grain, pop in your absorber and leave it closed for at least 12 days to be fully effective. Once you open that container, that absorber is done and can be tossed.
Another note when opening the oxygen absorber packet that you get from Azure, once you open that, place them in the buckets quickly (within 10-15 of opening the plastic) and any you don't use, put in a mason jar with a lid. The mason jar lid will seal/suck down as the oxygen absorbers do their job and this is how you know they are still good.

Whew, okay, thats the more complex side of food storage! I hope this makes sense!

Glass Jars
One of my absolute favorite ways to store food is in glass jars! As I stated earlier, when first starting our bulk food pantry I got my glass jars from Hobby Lobby. As my pantry has grown, so has my jar collection. Along with getting buckets after that first Azure Haul, I also went to our local hardware store, (shout out to Gilmans if your in Southeast Indiana) and I got all the different sizes of mason jars. Again this was an investment, but if you take care of your glass jars they should last you forever and could even be an heirloom you pass on to your children!

I've also collected glass jars from auctions, yard sales and flea markets. These are some of my favorite as they are unique and add different character to the bulk food pantry and you can usually get them for an excellent price.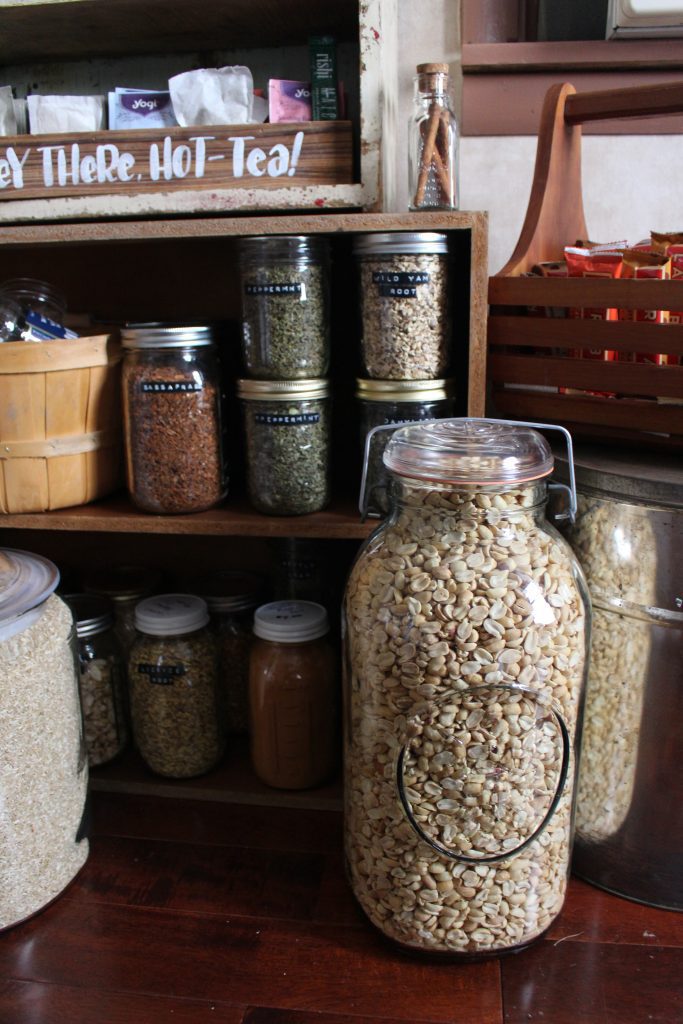 Labeling
I use my Dymo manual label maker. You can get this from any office store. I love the way it looks on my jars. But really you don't need anything fancy. My friend Bowyn, once shared on instagram how she writes on her jars with sharpie and then used rubbing alcohol to get it off when needing to change labels.


Creating a Pantry When You Don't Have a Pantry
Now we had our 900 lbs of food, glass jars for everyday access, and buckets for whatever wouldn't fit into the jars. Now I needed to create a pantry. Our rental house didn't have food pantry and had very little kitchen cabinet space. We put our 5 gallon and 1 gallon buckets in our hallway closet, under the stairs. For our glass jars I've always had this vision of a bulk food pantry, where everything is in glass jar and labeled. Here was my chance to see that vision come into reality.

I started with what we had, which was a chipboard black walmart shelf. Not pretty, but functional.

No more than a week later did we go to an auction and we got 3 of the most beautiful and functional shelves all for $37. And here is how the pantry looked!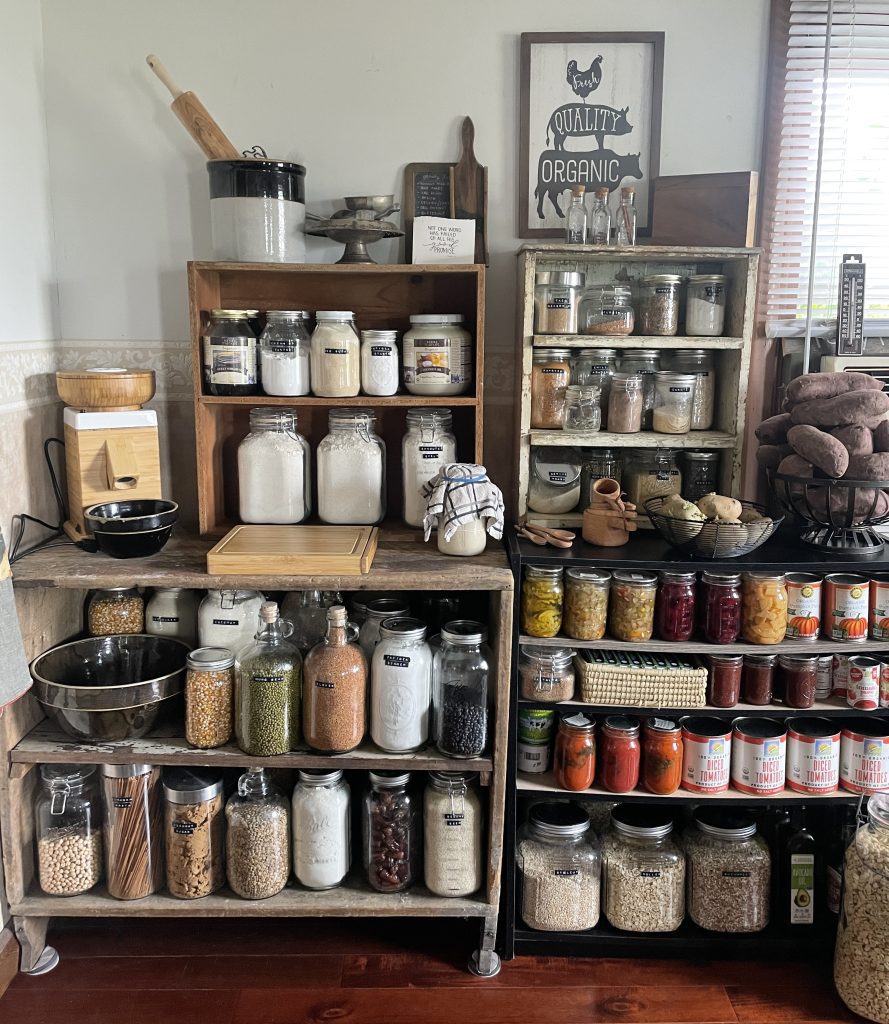 As canning season, and herb gathering season carried on, I had to expand my bulk pantry. We got another bookshelf for $15 at an auction. I really think, when you have a vision for a space, God will provide you what you need, when you need it.

I hope this has made you excited about building your bulk food pantry! God bless you!
For more info about where I get my bulk food, stay tuned for upcoming post!