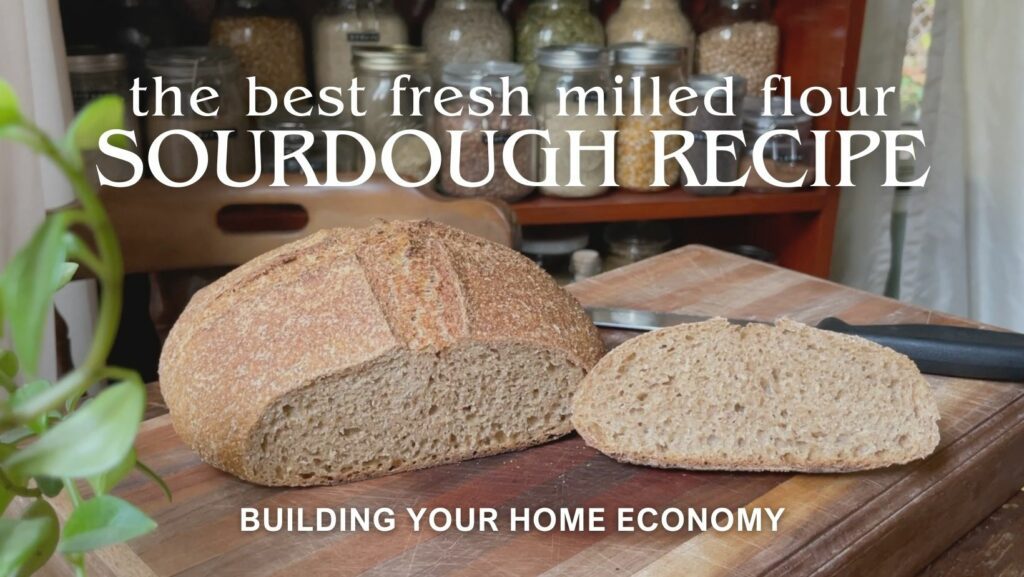 I have been using my Nutrimill grain mill exclusively for the past year and a half, and while I love the benefits of fresh milled flour- it has not been the easiest journey switching over from store bought flour. The thing with using fresh milled grains, is you now have the bran, germ and endosperm, where as store bought flour just has the endosperm to make it shelf stable. When the germ and endosperm is left in, the flour absorbs more water, which is one of the reasons not all recipes translate well with fresh milled grains.

A few months ago I stumbled upon Breadtopias Forum (an instagram friend recommended this shop to me for sifters- thank you Cassidy!). In the forum, Jonathan Mandel shared his recipe for a sourdough loaf with fresh milled flour- I tried it, making a few changes to what suites me and it has been a no-fail recipe!

Here is the screenshot of his recipe within the forum and I also have it linked in the text above: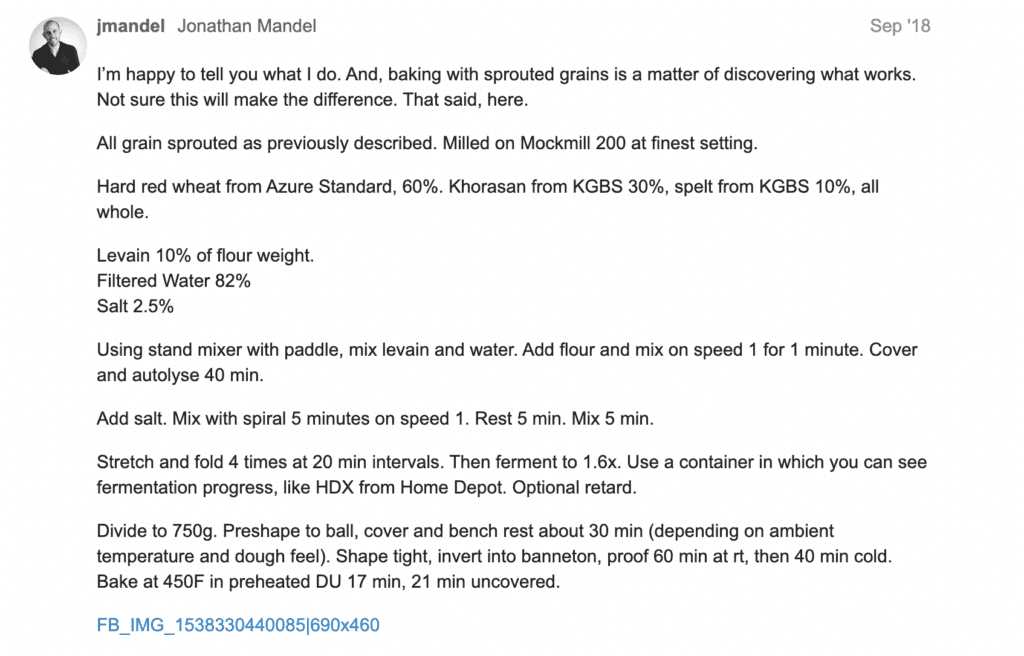 I like to ferment my sourdough overnight, so that's where I made some changes.

Below is the full recipe, and here is the youtube video of me making it if you are a visual learner:

I also have a full video on what I've learned using a grain mill and it's pros and cons if that is of interest to you:

I hope you enjoy it and it encourages you in your fresh milled flour journey!

Makes 1 Sourdough Loaf

Ingredients:
455g hard white or hard red wheat berries (or a mixture of the two, I get mine from Azure Standard)
46g of peak, ready to go sourdough starter (I'll share how I feed my starter below)
373g of warm filtered water (90ish degrees F)
12g good quality salt

Prepare Sourdough Starter:
If I haven't been feeding my starter out on the counter consistently, but rather it's been dormant in the fridge, I make sure you feed it two times before hand. So let's say I plan on making bread on Monday to bake Tuesday morning. I will get my starter out of the fridge on Sunday at some point- let it get to room temp. In the evening feed it. Then feed it again Monday morning, so by Monday afternoon it is rejuvenated and ready to use!

How I Feed My Starter:
My sourdough starter is made with fresh milled flour, I keep it very simple even ratios, so the same amounts of each. Example 100 g of discard, 100g of fresh milled flour, and 100g of warm filtered water (I will usually add a bit more water than this to get it to pancake like consistency, since fresh milled flour absorbs more water than store-bought flour). So I will do this between 7am-9am on the day I plan on making bread.

Time Frame of Events:
Between 7am & 9am- feed starter
Between 3pm & 4pm- prepare dough (recipe/process below)
Between 9pm & 10pm- place dough in the fridge overnight to ferment
7am- Put dutch oven in oven, turn temp to 450F, preheat
8am- Put dough in oven
(you can be flexible with morning times- this is just an example)

Sourdough Bread Recipe:
Start at around 3pm or whenever your starter is at it's peak (I can usually notice when it starts to deflate in the jar because it leaves residue behind and that's when I know it has hit it's peak and if I wait much longer, I've missed the window to make good bread).

Measure 455g wheat berries then mill on finest setting. For Nutrimill, I will add the berries THEN use the dial at the top to turn it down until it is very fine and powdery, when the berries are finished it will be making a squeaking noise from the stones touching, and I'll turn the dial back to loosen the stones again.

Add 46g of starter & 373g of warm filtered water to a mixing bowl, and mix with hand. Then add in your fresh milled flour. Mix again by hand for 1 minutes. Cover with damp towel and let it sit for 40 minutes.

After 40 minutes, add 12 grams of salt.

For this recipe, I do use a mixer with the spirals on it- if you don't have this, so the same process just knead it by hand for that same amount of time.

Mix with spiral mixer for 5 minutes on the lowest speed.

Cover with damp towel, let sit for 5 minutes.

Then mix again for 5 minutes on lowest speed.

We are now done with the mixer.

Stretch & Fold
With your dough still in the bowl, you will pull the one side up as much as it will let you without ripping the dough and fold it onto itself- do this to all 4 sides of the dough. Then turn it on itself so that the folds are underneath the dough. (this part may be easier to see in youtube video). Cover bowl with damp towel and rest for 20 minutes. You will repeat the stretch & fold 3 more times at 20 minute intervals.

After last stretch and fold. Notice it's size, cover with damp towel and let it bench rest for 3-4 hours or until it is 1.6x it's original size. The timing of this will depend on the temp of your home.

After 3-4 hours or when it's 1.6x it's size. Pour dough out on clean countertop. Stretch and fold if needed to compact it into a ball shape. And now you will shape the dough ball tight, but cupping your hands around it and gently pulling it on the counter towards you. This will tighten up the ball, building tension in the dough. Do this a few times.

Cover with damp towel. Let rest on countertop for 60 mintutes.

Prepare your banneton basket. You can use any basket for this, or even a bowl if you don't have a basket. Lay a kitchen towel inside, dust with flour.

Shape tight the dough again and place it into your floured linen or cotton towel basket, cover with towel. Then place basket into a plastic bag. Tie bag shut and refrigerate overnight.

If you started at 3 or 4pm, it should be around 9 or 10pm at this point.

The Next Morning:
(timing is flexible, you can leave your sourdough to ferment in the fridge from 6-18 hours)

Place dutch oven with lid on, in the oven and turn it to 450F. Preheating the oven and dutchoven for 1 hour.

Take the dough straight from the fridge, place on parchment paper, slit the dough to your liking, place in dutch oven with lid on. Work quickly with this part you don't want much heat to escape the oven.

Bake 17 min with lid on.
Take lid off.
Bake an additional 21 minutes.

Once baked, I take it out of the dutch oven immediately and place it on a cutting board, letting it rest for 30min to an hour. If you don't cut it open right away it will continue to bake.

Then it's ready!!

I hope this recipe has been helpful in your grain milling journey!