I first started making marshmallows in 2019. I followed Danielle Walkers recipe here.

As time went on I ended up adjusting it to what worked best for me, and as people would ask me for the recipe, I would send them Danielle's recipe with a whole bunch of caveats of what I do differently. So here I will share what I do!

Also, you will see the major ingredient to make homemade marshmallows is Gelatin. I get mine from Perfect Supplements. Whenever you order 6 or more of their "Perfect" brand name products, you will get 25% off AND you can always stack my 10% off code on top of that for an additional discount. They offer this year round. This is my link.

To get that bulk discount, the other products that I am always reordering besides the Grass Fed Gelatin is:
-Grass Fed Hyrdolyzed Collagen: I add this to our smoothie every morning and will add this to hot chocolate or milk shakes in the evening. I add this to homemade ice cream as well.
– Acerola Powder. I add this to our morning smoothie. And if I'm noticing we are starting to not feel well, we will mix this in with water or juice several times throughout the day to boost our immune systems. This is one of the highest forms of vitamin C.
-Grass Fed Dessicated Beef Liver Tablets: I love these for when we are traveling and not able to drink our morning smoothie where I will usually add a chunk of frozen raw grass fed beef liver. Beef Liver is known to be nature's multi-vitamin.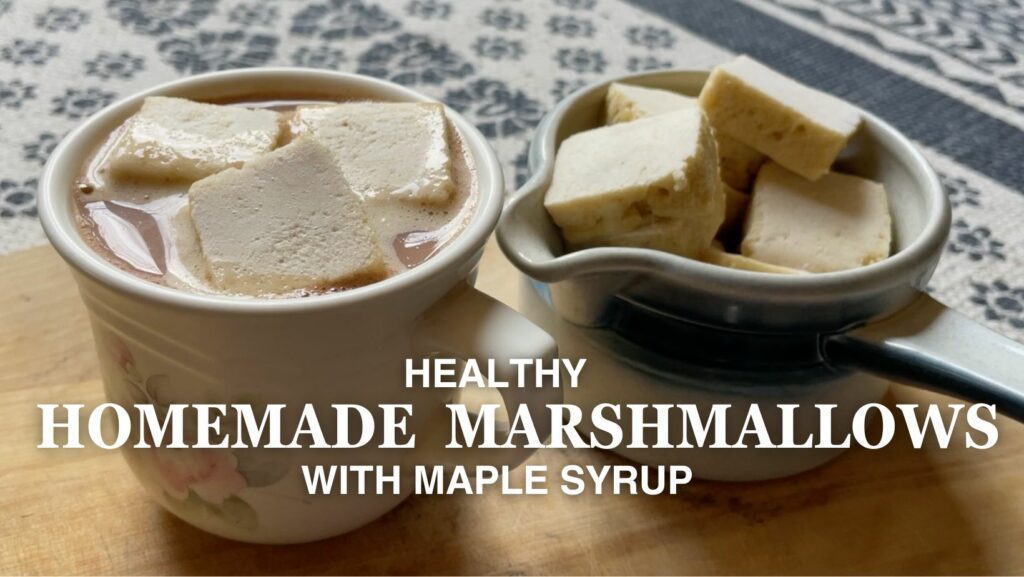 Homemade Marshmallows with Maple Syrup Recipe

Watch full video here
Ingredients:
1 cup of water-divided into two half cups. (or 240g water, split into 120g)
3 tablespoons of Perfect Supplements Gelatin Powder
1/4 cup of maple syrup (or 70ish grams)
1 tsp homemade vanilla
arrowroot powder (optional)

To start you need to bloom the gelatin. Pour 1/2 cup of water into a decent size mixing bowl. Sprinkle 3 tablespoons of gelatin over the water, let sit. This can be whisked after a while if desired- but not necessary.) Set this bowl aside, this needs time to bloom, so make sure you do this first!

Now add 1/2 cup of water to a sauce pan and 1/4 cup of maple syrup. Turn stove top to medium high heat (I set mine to #7). Bring this to a boil, whisking occasionally to keep from burning. Once the mixture reaches a rapid boil, set timer to 5 minutes and continually whisk mixture for entire 5 minutes.

After 5 minutes are up, slowly pour the maple syrup mixture into the gelatin bowl while the hand mixer is on low speed. Once all maple syrup mixture is added, slowly turn the mixer to high speed. After about a minute add in 1 tsp of vanilla. Continue to mix. The mixture will turn from a brown liquid to a beige cloud. You will know it's ready when you stop the mixer, lift it out and one drop comes off and no more. Or my preferred method is to stick my clean finger in, and a slow drop comes off then sticks to the finger.

At this point you need to work quickly because the marshmallow can stiffen up quickly. Pour mixture into glass dish. Let sit. When firm you can sprinkle the top with arrow root powder. Then I put a little coconut oil on my knife to cut marshmallows into squares, and if desired, you can sprinkle more arrowroot powder to entirely coat the marshmallows so they don't stick together.

Store in closed container on the counter. Will store for 3-4 days.

Note: I still haven't figured out a way to get these to work for smore's. They just melt too quickly.