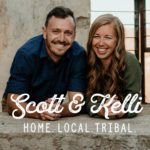 Overcoming fear of bringing children into the world. And we share why we aren't sharing more on our journey of trying to conceive. We pray this is a blessing and encouragment to you .

For more questions email us at homewithkelli.co@gmail.com
Check out homewithkelli.co for a selection of handmade & handbound journals and Organic Rooibos which we have imported from Scott's home country of South Africa!