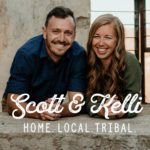 Practical steps towards victorious living. Do not conform the the culture of victimhood, but be transformed by the Word of God.

Scott's Twitter & Instagram @couragemylads
Kelli's Instagram @homewithkelli
Our H E I R L O O M M A R K E T Shop⇣
https://www.etsy.com/shop/HeirloomMarketFinds
Use code HOMEWITHKELLI for 10% off your order of $18 or more.
Y O U T U B E
Scott & Kelli⇢ https://www.youtube.com/channel/UCwst83b2npJrlYSGuW3YMcQ
Scott's ⇢ https://www.youtube.com/channel/UCNwly-avFA7iU8aKA6EQEPQ
AZURE STANDARD ⇢ https://www.azurestandard.com/?a_aid=11fadc444e