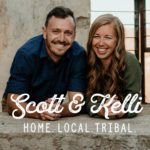 Feeling stuck? Or like you're just going through the motions… surviving, not thriving? We've been there and in this episode talk about steps towards getting out of that rut!

Scott's Twitter & Instagram @couragemylads
Kelli's Instagram @homewithkelli
Our H E I R L O O M M A R K E T Shop⇣
https://www.etsy.com/shop/HeirloomMarketFinds
Use code HOMEWITHKELLI for 10% off your order of $18 or more.
Y O U T U B E
Scott & Kelli⇢ https://www.youtube.com/channel/UCwst83b2npJrlYSGuW3YMcQ
Scott's ⇢ https://www.youtube.com/channel/UCNwly-avFA7iU8aKA6EQEPQ
AZURE STANDARD ⇢ https://www.azurestandard.com/?a_aid=11fadc444e